When a Second Set of Eyes Can Eliminate a Food Safety Fiasco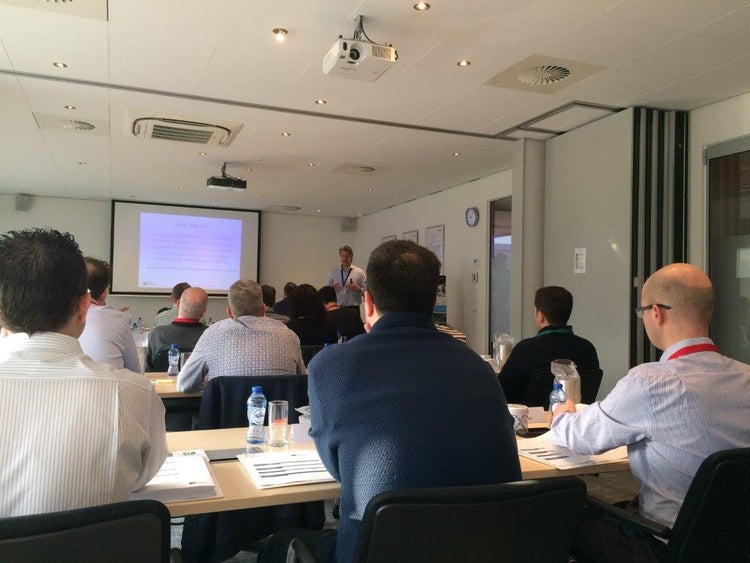 Reaching sanitation goals in a bakery can be like climbing a mountain. It's a long journey with many obstacles. But upon reaching the summit, you can look back at what you've accomplished and revel in the rewards.
The first step is mapping out a strategy.

It takes a team and a lot of help to achieve lofty goals. In the baking industry, several third-party solutions help companies create plans for any number of food safety standards to ensure protection and success in regulatory or customer audit situations. From U.S. Food and Drug Administration to Global Food Safety Initiative (G.F.S.I.) and Food Safety Modernization Act (FSMA) requirements, organizations such as AIB International can provide the necessary push to get any company to the summit. Hiring an outside firm often sheds new light on an operation. Because they see what's happening in the entire food industry and the regulatory world, they can provide a wider perspective on sanitation requirements. "The right company can also offer solutions, best practices and insight, so food safety success is attainable," said Judi Lazaro, senior category director, food safety services, AIB International.
Aryzta, Zurich, Switzerland, has relied on a combination of in-house programs and outside firms to reach its food safety goals. Tracie Sheehan, chief health, quality and sustainability officer, Aryzta, said a third-party presence ensures the company is aligned with or exceeding the industry benchmarks.
"We strive to be best in class and continuously improve every year, and of course there are standards we must meet for regulatory inspections, third-party audits and customer audits," she said. "A third party being involved in your process is very critical to meeting these objectives."
Complete compliance means standing at the top of the food-safety mountain and seeing there are many other peaks to summit. The success of a food-safety program and cooperation with third-party organizations inspire an attitude of continuous improvement.
"Ongoing goals are driven by consumers' expectation for safe and quality products, customers' demands or changing regulations."
Joe Stout, Baking & Snack contributing editor and president of Commercial Food Sanitation, said such ongoing goals are driven by consumers' expectation for safe and quality products, customers' demands or changing regulations. "Bakery is a broad category, and different products have different risks," Mr. Stout noted. "Some bakeries operate in older buildings with older equipment while others are new. Ultimately, bakers want to make sure that risks are managed, and there is a continuous improvement plan."
The first step is mapping out a strategy.
Making the call
Sometimes companies need a new set of eyes on a particular issue to find the path to a solution. Outside companies that specialize in regulatory requirements and industry best practices can be that fresh perspective.
"Our bakeries can learn what industry changes are occurring not only from us but also from an outside party that sees other facilities," Ms. Sheehan said. "A third-party firm has access to many more locations, so they see best practices in the meat, produce, dairy and other food industries that they can bring to the baking industry."
Bakers need to first identify what assistance is needed, then make sure the team fully understands the problem and write out the desired outcome.
In general, the baking industry has lagged compared with other food industries because it has been considered low-risk for foodborne illnesses. However, because pathogens like Salmonella have been identified in flour, third-party solutions can not only improve a company's sanitation strategy but also preserve the industry's reputation. When Aryzta onboards a new bakery partner, co-manufacturer or supplier, Ms. Sheehan said it's useful to recommend an outside company to bring those partners up to G.F.S.I. guidelines and Aryzta's own standards.
Gonnella Baking, Schaumburg, Ill., takes advantage of outsourcing audits for FSMA compliance. Dan Herzog, vice-president, corporate compliance, food safety, suggested baking companies shouldn't be afraid to pick up the phone and call for help. He said bakers need to first identify what assistance is needed, then make sure the team fully understands the problem and write out the desired outcome.
"Having a clear path of the expectation and the end result in mind will facilitate guidance to determine what direction to go should you decide to ask for help," Mr. Herzog said.
Gonnella has used several outside resources to assist with compliance to FSMA regulations. For example, with many food safety compliance programs in place, the company challenged itself with a "FSMA Readiness Assessment Audit" conducted by a third party. The goals were to gain an objective review of the current food safety plan, verify its effective implementation onsite, learn how well it meets FSMA regulations, and discover how to correct weaknesses before an F.D.A. inspection actually occurs. This resulted in the revision of a few existing procedures, as well as the creation of some new programs to fill gaps that were identified by the gap assessment. Mr. Herzog said the company's plan and its programs are now stronger than ever.
"Our company improved because we invested in knowledge and asked for help," he said. "Third parties are a tool in our toolbelt. If we don't use all the tools we have available to us, then we miss out."
FAQs about G.F.S.I.
Ms. Lazaro said AIB International is often asked if companies need an additional visit from a third-party provider if they are already G.F.S.I.-certified.
"The G.F.S.I. certification is an achievement and is something to be proud of, but there is so much more to food safety and sanitation than a G.F.S.I. certificate," she explained. "Sometimes our customers are very good at audits, but they aren't sure why they are doing what they are doing. A readiness assessment from a third-party service provider can help determine whether companies are really going to be ready when the F.D.A. walks in their front door."
Many bakers request third-party audits only when a customer requires it, rather than partnering with food safety firms to protect their brands year-round. Audit companies can assist with sanitation assessments, F.D.A. readiness, labeling requirements and even bakery efficiencies. Also, if a bakery's customer requires a third-party audit, these companies can add value to the process so it becomes more than just an assessment.
"If a baker calls and asks about an audit program, we take the time to better understand their needs," Ms. Lazaro said. "Is this a G.F.S.I. audit? Do they understand the various schemes, like BRC, FSSC 22000, SQF? Is this an inspection where the time will be spent on the floor tearing into equipment, climbing the silos, checking the sifter tailings?"
She said the best auditors will assess the bakery's true needs instead of just making sure they're in compliance.
"I would tell them to be honest with their third-party service provider when discussing their needs," Ms. Lazaro said. "It's okay to say 'I don't know' or 'I'm not sure.' Their goal is to help you, so be transparent. Think of them as your partner."
Another common misconception bakers have about AIB International is that the organization only provides audits and inspections. The reality is that it becomes a member of the bakery team by providing training and more.
"Maybe your bakery has an issue with insects, mold, foreign material, labeling or inconsistent doughs," Ms. Lazaro said. "Rather than try to solve those issues alone, trust a third-party service provider to help you look at the entire picture. Think of them as a 'branch office' that you can call on when needed. If you are only thinking of audits and inspections, you're missing out on a team of experts at your fingertips."
While there is no doubt that a certification audit prepares a company for a government inspection, it may not be enough to help a company reach its food safety goals. The G.F.S.I. audit, for example, ensures that companies have a solid food safety system in place, but it may not help with how to handle a regulatory visit.
"A G.F.S.I. audit won't tell you whether you should swab when the investigator swabs or whether you allow photos to be taken during an F.D.A. inspection," Ms. Lazaro said. "Those are among the many fundamentals that a third-party regulatory assessment can help you with, and in a more calm and educational setting."
Mr. Herzog said there are many reasons to take the leap and invest in a third-party solution. Different audits have varying standards. For example, G.F.S.I. audits differ from AIB's focus. He said G.F.S.I. audits are HACCP-based and about compliance with a Food Safety Management System in regard to local, state and federal laws. Using this approach can improve a company's food safety systems, and by implementing the G.F.S.I. standards, it provides a step-by-step approach to managing the operation.
"You will find in today's world of suppliers and customers it's one if the first questions for selling points about a company," Mr. Herzog said. "They question if you have a G.F.S.I.-based program in place and which one. When was the last time you had certification, and can we share the report, findings and corrective actions? Knowing this creates leverage to do the right thing as we have a responsibility to make safe food for the public."
On the other hand, AIB inspections and audits focus more on a deeper sanitation process and take a team approach to addressing the problems.
"The inspector or auditor has been trained to provide opportunities discovered during the inspection and suggest manageable corrective actions," Mr. Herzog explained.
Aryzta uses independent certification bodies such as Food Safety Net Services, or AIB International for its annual G.F.S.I. audits and certifications in its bakeries. The company requires its ingredient and packaging suppliers to achieve G.F.S.I. certification because it provides the best standardized approach and independent assessment of food safety compliance, Ms. Sheehan said.
"Every year we have a G.F.S.I. certification audit that is based on the latest food safety and sanitation standards," Ms. Sheehan explained. The audit plan is tailored to the size of the bakery and the products it manufactures. The larger the bakery, the longer it takes to conduct the audit. The plant implements immediate corrective actions and establishes appropriate preventive measures to ensure any non-conformance does not reoccur.
Implementing change
Bakers need to show interest in support to enhance their programs and training to guarantee their sanitation programs are measurable, effective and, most importantly, sustainable.
"It's about having a plant be self-sustaining."
"We are seeing an increase in demand for coaching the sanitation leads and their teams at the bakeries," Mr. Stout said. "There is a shortage of sanitation specialists for which there is a great demand." 
Third-party solutions can fill that need. Working with an outside organization improves programs and practices so they are more robust, not only on paper but also in execution. When working with bakeries, Mr. Stout strives to improve their knowledge so they can mitigate risk and justify their programs to an inspector. He also helps the local bakery team prioritize and establish short- and long-term strategies.
"It's about having a plant be self-sustaining," he said.
Bakers should check third-party food safety companies' credentials and their track record of auditing in its specific food category. However, a well-rounded auditor that's qualified in other categories can incorporate those best practices.
"Leveraging third-party auditors protects your consumers, your customers and your company," Ms. Sheehan said.
It can be a difficult climb to full compliance. But at the summit of sanitation standards, the benefits affect everything including the bottom line.
"It takes a tremendous amount of leg work, but once you're on top of that mountain, it's a tremendous accomplishment, and it opens up a lot of avenues for future growth," Mr. Herzog said.
Interview with Joe Stout, Baking & Snack contributing editor and president of Commercial Food Sanitation (CFS).