Produce Industry Collaboration – An update on the initiative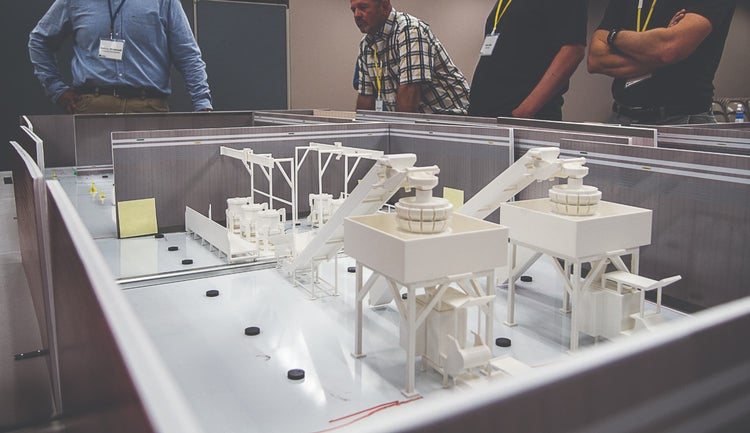 Hygienic design is a key component of food safety – if equipment or plants cannot be adequately cleaned, food safety is jeopardized.
Our produce industry initiative brings fruit and vegetable processors together with their suppliers, harvesting teams, and equipment manufacturers to collaborate on improving food safety. This continuous improvement initiative, facilitated by Commercial Food Sanitation, engages and educates processors and equipment manufacturers in order to enhance hygienic design. Efforts are sponsored by Food Service and Retail organizations as well as Trade Groups as a means to improve food safety for all consumers.
"These improved, typically simplified, designs are intended to make equipment easier to access, disassemble and clean leading to more effective sanitation."
Initiated in 2018, this group, has a vision to improve equipment and facility design to in order to achieve enhanced, effective and efficient sanitation and operational performance.
These improved, typically simplified, designs are intended to make equipment easier to access, disassemble and clean leading to more effective sanitation. Additional benefits are achieved through decreased complexity/required time and increased operating availability.
How does it work?
Upon selection and agreement between processors and equipment manufacturers, coaching teams of hygienic experts meet and evaluate designated models in accordance with the 10 principles of hygienic design.  Improvement opportunities are identified and vetted to assess impact and to prioritize potential enhanced design alternatives.
Periodic team reviews are subsequently scheduled to discuss options to enhance design, evaluate progress and achieve hygienic design improvements to both existing and new models.  Although food safety is considered non-competitive, care is taken to maintain confidentiality by referencing design principles, ensuring specific engineering solutions remain confidential if desired.
What has been achieved to date?
Communications have been initiated with approximately a dozen equipment manufacturers and significant improvement activities are in process with many of them; more anticipated as efforts continue. To date, several enhanced models have been developed, prototypes trialed in plants and the first hygienically improved units are already available for sale in the marketplace.  As additional working teams are formed, organizations educated and aligned on hygienic design, continued improvements will be realized.
Initially focused on equipment widely used in the produce industry, these same benefits equally apply to other food categories. More food processors are included in this produce industry collaboration, broadening the scope and benefits across the food industry.
What do participants say?
"The collaborative process among industry stakeholders and trade associations to develop these first-generation of standardized hygienic design and sanitation performance assessment tools was a much needed addition to the general and more variable cleaning and sanitation elements of food safety systems applied to field harvest and field packing/processing equipment. I was gratified to actively represent PMA in this effort which addressed and will provide tangible and practical deliverables against key missing elements identified in the Romaine Task Force and the FDA Leafy Greens Action Plan."
Trevor V. Suslow, VP Safety – PMA (Produce Marketing Association)
"Multivac found the recent hygienic design review event and webcast a very valuable exchange of ideas thanks to the expertise and experience of the assembled crowd from CFS, Yamato and our customers from the dairy, protein and prepared meals industries. The organization of the group and events by CFS and the professional execution was superb. Thanks again for this valuable collaboration to promote hygienic design in the food industry. "
Cem Yildirim, National Sales Manager – Produce, Multivac
"The exercise continues to demonstrate consistent interpretation and calibration regarding the checklist.  This is a positive indicator for OEMs as it demonstrates processors are generally consistent in what they are looking for in hygienic design and that the tool can drive solid guidance."
Rory Redemann, Corporate Sanitation, Kraft Heinz USA
"In a short span of time a group of professionals coming from food processing, food sanitation and machinery manufacturing came together with the common goal to make food safer to eat for our friends and loved ones. It was a great experience.
The next step, to put what we've learned into design and practice."
Larry Chmielewski, General Manager Tray Lines & Key Accounts – Yamato
Hygienic design is a critical component of food safety, enabling consistent and reliable sanitation and safe food operations.  Application of design principles will play a key role in educating manufacturers and processors, representing a significant step to better assure a safe food supply.