Improving Food Safety Through Industry Collaboration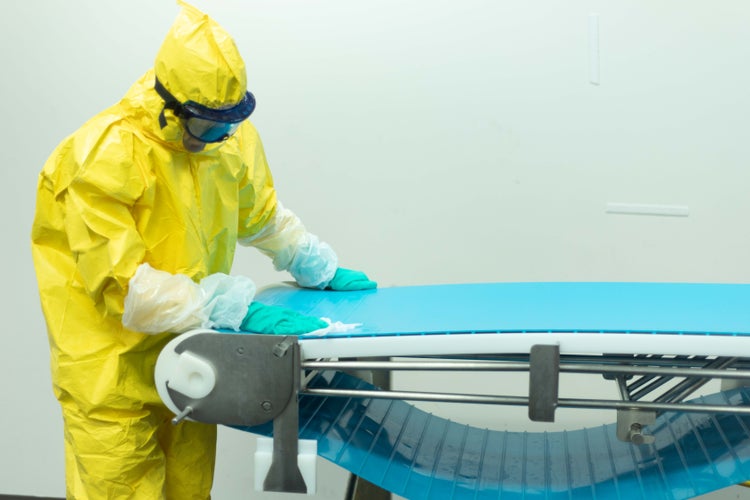 About two years ago for the PROCESS EXPO blog, I interviewed Darin Zehr, the general manager of Commercial Food Sanitation (an Intralox company) about the state of industry knowledge surrounding food safety and hygienic design. As a company that provides consulting services and training programs in sanitation, hygienic design, and environmental controls, Commercial Food Sanitation has the inside scoop on where processors and their suppliers are seeking more education and information.
At that time, with FSMA deadlines just starting to roll out, Zehr said that the #1 question they were hearing from clients was: "How can we become more proactive in hygienic design?"
Now, FSMA is in full swing and hygienic design is becoming a prerequisite for processors purchasing new equipment. So, we reached out to Zehr again to learn what's changed in the past two years and what the most important and prevalent question is today.
"How do I ensure my OEMs are using great hygienic design practices?"
In thinking about food safety trends over the past two years, Zehr notices not so much a change as a continuation of what was already happening. Processors are working to be more proactive about hygienic design, which includes looking for OEM partners who can help them meet that goal. As a result the main question Zehr hears now is: "How do I ensure my OEMs are using great hygienic design practices?"
One answer is training. Zehr has noticed an uptick in demand for hygienic design training globally. "We've been doing this training in the United States and Europe for four or five years now, and we're starting to see interest from companies in China. We've even had processors who are purchasing equipment from overseas ask us to provide training on hygienic design to the OEMs. We expect to have a few hundred people go through our training programs this year alone, which shows the industry's desire to get stronger in this area."
Overall, the push toward hygienic design provides ample opportunities for OEMs. "Some OEMs are still moving cautiously forward," Zehr says. "But the number of processors pushing for hygienic design continues to grow, and sales will be there for OEMs that adjust."
The answer lies in collaboration
Especially with the new requirements under FSMA, the industry is recognizing that food safety requires close collaboration across the supply chain. To that end, Commercial Food Sanitation has been involved in several recent initiatives aimed at bringing OEMs, processors, and buyers together. Here are three examples:
In 2017, Joe Stout, the founder and president of Commercial Food Sanitation, organized a meeting that brought together equipment suppliers, fresh cut produce suppliers, and their buyers to discuss sanitary design solutions. Since that first meeting, the collaboration has been formalized in the HYGIENIC DESIGN FORWARD Team, in which the members and sponsors are committing to long-term collaboration on hygienic design.
Last April, Intralox hosted a NEXT Conveyance Innovation Summit in New Orleans, where the first day was dedicated to hygiene. "Conveyor manufacturers and processors spent the day discussing common challenges in the industry and what's needed to take the next step," Zehr said. Based on the feedback they received, Commercial Food Sanitation is working with processors to create new conveyor standards. "This will provide OEMs with clear guidance on what their customers want and need."
In collaboration with Intralox, Commercial Food Sanitation is in the process of developing a Food Safe Conveyance (food safety and hygiene maintenance) workshop. The workshop will be held in a processor's facility and teach maintenance workers about hygienic design and proper conveyor setup/maintenance so that when they're working on or modifying equipment, they'll be able to uphold sanitary standards and deliver operational efficiency.
The FPSA Food Safety Network
Outside of company initiatives, Zehr believes there's a need for wider industry collaboration around food safety. That's exactly the goal of the new FPSA Food Safety Network, of which Zehr is a founding member. "The Network provides the opportunity to pull in different vantage points," he says. "It allows OEMs and processors to learn from one another and helps OEMs to better understand what processors are looking for."
"It feels like a blank sheet of paper, but if we get the right people and keep our ears to the industry, we'll have the opportunity to move the industry forward in a powerful way."
The FPSA Network structure is brand new (read the July 2018 press release), and the goal is for each of the Networks to determine their own mission and activities. Zehr is excited at the prospect. "It feels like a blank sheet of paper, but if we get the right people and keep our ears to the industry, we'll have the opportunity to move the industry forward in a powerful way," he says.
In terms of what he would like to see from the initiative, Zehr believes that the most important thing for now is for OEMs to gain clarity on hygienic design so they can take steps forward. "If the information they gain from the group gives them new ideas, I will feel that's a success."
What the future holds
In our interview two years ago, I asked Zehr what he expected the future to bring for food safety. At that time, he said continued collaboration and more education around hygienic design — a prescient answer to say the least!
His answer to the same question today yielded a multifaceted answer. First, he expects technology to become more important. In particular, he mentioned the advances that whole genome sequencing (WGS) are bringing to food safety testing. Second, he believes there will be increased sensitivity surrounding the global environment. "As the world changes, it affects everybody," he says. Finally, he thinks that the labor market will continue to be tight, impacting processors' ability to hire employees such as sanitation workers. "This makes hygienic design even more important," he says. "Everything points to the need to make cleaning and sanitation more efficient."
All of these are potential topics that the FPSA Food Safety Network could choose to tackle.
The FPSA Food Safety Network is open to all FPSA members and associate members. If you have questions or would like to get involved, explore these resources or contact Dolores Alonso at DAlonso@fpsa.org.