Improve Hygiene Control with Color Code Programs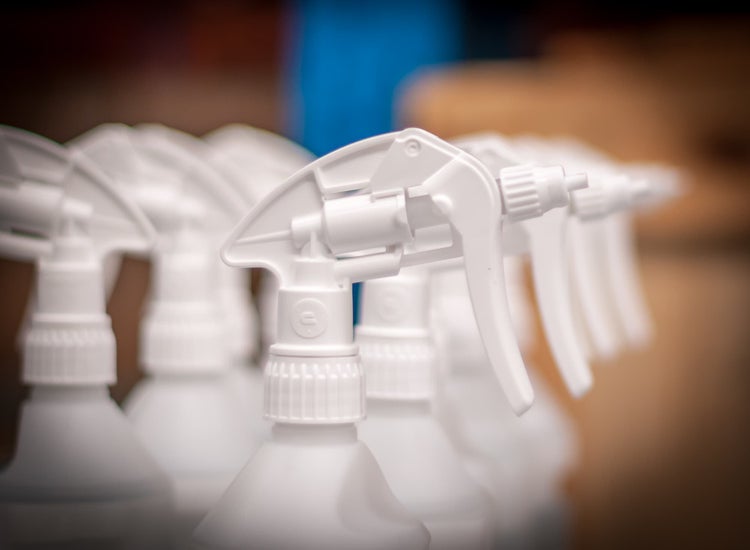 Food manufacturing sites use a variety of containers and tools during food production and sanitation of processing equipment and production environment.  From scrapers to squeegees—a well-designed color coding system is an important component of a food company's internal hygiene control.  
Clearly defined color coding tools for different areas of the food manufacturing site can help eliminate the most fundamental causes of bacterial and/or allergen cross-contamination when managed correctly. A color-based system can also support an effective, simplified cleaning procedure that are particularly relevant for employees who do not share the same first language. As a result, a good color-code program makes it easier to maintain your HACCP and quality management systems.
How to build a solid color code program?
Develop the program 
To build an effective and practical color coding program, you need to know your facility, equipment, and processes very well, and the potential cross-contamination risks.  Start with dividing your production areas into visually separated zones based on the risk to the product (i.e.: Ready-To-Eat (RTE), high hygiene, low care, and include allergen separation where necessary). Assign each area / zone its own color for production and sanitation tools. 
Document the program
Remember, the objective is to keep it simple, useful and easy to execute.  Using pictures will help your staff visualize what container or tool is to be used for what task.  This in turn will aid in controlling the risks of cross contamination.  Example may include (but are not limited to):
Containers for raw ingredients and / or rework should be a different color than containers for RTE ingredients or rework.
Containers for ingredients and re-work should be a totally different color than waste containers.
The sanitation brush for scrubbing product contact surfaces in raw should be a different color than the sanitation brush for scrubbing product contact surface in RTE or high hygiene.
The sanitation brush for scrubbing walls should be a different color than the brush used for scrubbing a floor.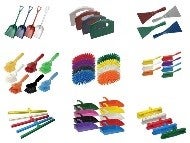 Standard operating procedures (SOP's) should be developed for the container and tools on specific uses, cleaning, inspection, and sanitation using a sequencing approach. For example, product-contact tools and containers should always be cleaned first, followed by non-product contact tools and containers to prevent cross contamination.
Good inspection and control programs with training also need to be included. That ensures your staff knows when to take a container or tool out of service before it becomes a risk hazard, and how single use tools like wipes or scrub pads are controlled to ensure they do not end up in the product stream 
Download a free example color code chart from our Documents section.
Communicate and train
A color-code program should always be clearly defined, communicated, and managed. Make sure all employees receive training on the color coding program and any related SOP's, followed by program communication with clear signage and adequate storage racks. Color code program training should be part of a food manufacturing site's good manufacturing practices (GMPs) training program.
Selecting the right tools
In today's marketplace production and cleaning containers and tools are available in a wide array of colors. Choose tools and containers that are durable and cleanable.  For food contact tools it is important to make sure you select tools made of FDA compliant materials and/or materials that meet EC regulation 10/2011 requirements.  Contact your supplier to understand which colors they have available for containers and tools used in food production areas.
Summary
Fully color-coded production and cleaning tools minimize the risk of cross contamination between different areas of the food factory. Combined with appropriate training, color coding will promote correct container and tool usage, both during production and cleaning, and ultimately motivate hygienic behavior.
For more digital learning opportunities, don't forget to check out the CFS Institute.