Hygienic Design - Hygiënisch Design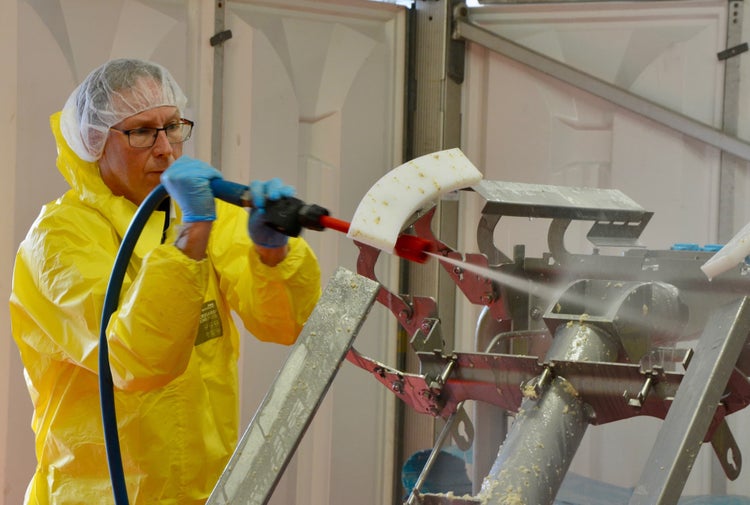 Food Safety starts with hygienic design of installations. Equipment has to be designed in a fashion that allows easy, fast and effective cleaning. All components have to be easily accessible or removable, so the cleaning crew has as few as possible issues when executing their tasks.
Read the full article in Dutch
The original publication of this article was in Dutch language. Continue to read the full article in Dutch...
Voedselveiligheid start bij het hygiënisch design van de installaties. De machines moeten zo ontworpen zijn dat ze in hun geheel snel en effectief te reinigen zijn. Alle onderdelen moeten dus vlot bereikbaar of te (de)monteren zijn, zodat het R&O-personeel zo min mogelijk hinder ondervindt bij het uitvoeren van hun taken.
"In ons verwerkingsproces vormt de aanwezigheid van voedsel en vocht een ideale voedingsbodem voor bacteriën. Micro-organismen groeien door zich te splitsen, waardoor een microbiologisch probleem zich heel snel kan uitbreiden", weet Sarah Vandemoortele, kwaliteitsmedewerker bij diepvriesgroentebedrijf Ardo, site Koolskamp. "Daarom is het belangrijk dat de oppervlakken glad zijn, zodat biofilms zich niet kunnen vasthechten en makkelijk te verwijderen zijn. Spleten moeten te allen tijde vermeden worden, weet ik uit mijn eigen ervaring."
Reinigen en ontsmetten behoort niet tot haar dagtaak, maar door dit toch eens zelf uit te voeren, kon Vandemoortele het belang van hygiënisch design aan den lijve ondervinden. "We gingen met een waterslang en chemicaliën aan de slag voor de reiniging en desinfectie van een transportband voor pindakaas. Na afloop deden we ATP- en allergenentests en zo werd mij duidelijk dat het niet volstaat om alleen de vloer of grote oppervlakken onder handen te nemen. Je moet je ook focussen op de moeilijk bereikbare plekken en het ontwerp van een installatie speelt hierbij natuurlijk een grote rol", stelde ze vast.
 Read the full article in Dutch as published by Food Process Vakblad here.
Read all Food Process Vakblad blogs on Sanitation Essentials Training
Multiple times a year, Commercial Food Sanitation offers 'Sanitation Essentials Training' courses in the European headquarters of its mother company Intralox in Amsterdam.
As a trade magazine we were invited to follow two Belgian participants during this three day course: Sarah Vandemoortele en Judy Ingelbrecht, both Assistant Quality Managers at vegetable processor Ardo in Koolskamp. They learned about the importance of food safety, hygienic design, and took matters into their own hands during the practical workshops. In a blog series Food Process Vakblad follows their experiences.