Evaluating Your Plant's Food-safe Design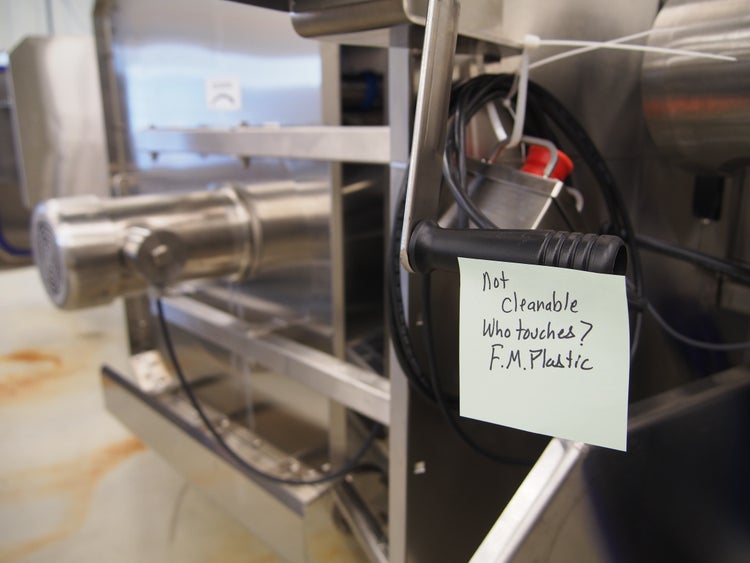 Reprinted and updated, with permission, from Intralox.com
How to identify ways to level up your game
There was a time when food processors equipped their lines to do two things:
Make product
Run
That was it. That's what mattered.
Today and in the future, manufacturers must equally prioritize producing safe food. If not, they risk failing to meet regulations or weathering an adverse event.
While productivity is crucial, the hygienic design of your conveyors—how effectively and efficiently those assets can be cleaned—is just as critical.
"I would say that hygienic design was born out of a need to improve food safety," says Cari Rasmussen, Food Safety Specialist at Commercial Food Sanitation (CFS).
"Hygienic design was born out of a need to improve food safety, but can help you achieve to many more operational benefits."
Early on, cleaning was somewhat of an afterthought. Adverse events, such as consumers getting sick (or worse), made food processors realize their conveyor systems must be sanitized extremely well. The problem? The equipment was closed and too inaccessible to properly do so.
As an industry, our understanding and technology have evolved. Today, we know the best equipment is hygienically designed and built to withstand various manufacturing conditions.
What can you do to improve hygienic design? And what should you be doing to evolve so your plant is food-safe by design?
THINKING HOLISTICALLY
Instead of focusing on individual parts, it can be helpful to take a wider view.
"We've come up with more of a systems approach," says Blane Gaubert, Intralox FoodSafe Application Engineer. "We continually develop tools and components that make our modular plastic belting (MPB) more effective when used together." For instance, combining the right MPB with cleanable sprockets, lock collars, and sprocket spacers can form a more hygienic whole on your line.
"When it comes to hygienic design, age isn't always a factor. Some of the newer conveyors can come with all the problems of older equipment."
Similarly, be open to applying hygienic design principles to your entire food processing environment.
"If you really want to raise the hygienic design bar at your company and meet your goals, you have to look closely not just at your equipment, but at your infrastructure," says Rasmussen. "What's the hygienic design of the area you're manufacturing in? What about the layout of the room? Do you have hygienic zones in place? Think holistically about the overall environment to see how you can be more effective and efficient."


ENGAGE EVERYONE
When considering future hygienic design decisions, ask: Do I have the right people involved? It's important to include cross-functional teams from the corporate and plant levels. Everyone's input is necessary to achieve the best design for your facility.
Gathering it could save all kinds of trouble down the line.
"I visited one facility where all the equipment in the room was pretty much new," says Gaubert. "We were brought in to help figure out what they could do retroactively to improve their situation. Only the safety team had been involved in the design and development of the equipment. As a result, everything was super closed in to reduce pinch points and the like, so cleaning it was cumbersome and time consuming."
Hygienic design can help you achieve simplification and sustainability. Clean faster and more effectively with less labor and fewer resources, such as water and chemicals.
While the general trend is to build equipment with good hygienic design, that's not always the case. New equipment can be just as closed and inaccessible for cleaning as older, legacy conveyors.
For the best outcome, get the right people in the room to make equipment decisions prior to it being finalized, purchased, and installed.


ASK QUESTIONS
How can you begin to make improvements? We suggest starting by asking these questions:
Do I have a good baseline understanding of where our facility is on the journey to great hygienic design?
Do we have the expertise in-house to evaluate where our facility is today?

If not, how do we get there?

Does our leadership understand what our food safety initiatives are, and what their roles are in achieving them?
Are we taking advantage of the resources available and the expertise that's out there to help?
The effects of properly, hygienically designed conveyors can be felt throughout your plant. Sanitation is faster and more effective. Maintenance becomes easier. Operations experiences more production uptime. And the plant produces consistently safe food.
Start the conversation at your facility.
Remember, an emergency will always be costlier and more painful than planning ahead.
No matter the size of your operation, you must produce food safely and have a plan for how your plant will continue to do so. Regulations are only getting tougher and meeting them is the bare minimum. Think about your future state and continue to push the needle forward so your plant's hygienic and food-safe design is ahead of the curve, not behind the times.
Need an objective review of your plant's hygienic and food-safe design?
Connect with CFS to discover how your team can achieve its hygienic design goals.