Challenges Amid a Pandemic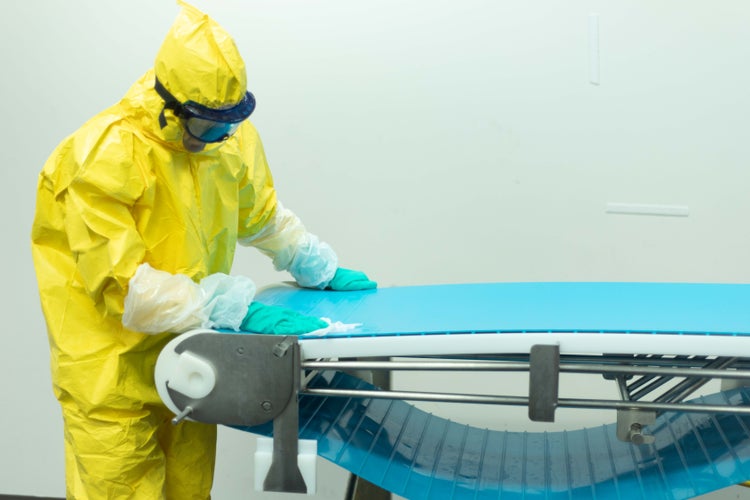 Cleaning and sanitation in the food processing environment has always been about food safety. But the onset of the COVID-19 pandemic—bringing with it changing requirements in distancing, personal protective equipment (PPE), and levels of sanitation—turned much of that focus increasingly toward worker safety as well. Products and procedures have adapted to meet the new demands, expanding the reach of sanitation beyond the equipment itself and finding innovative ways to keep employees further apart from one another.
Clara Pan and Stephanie Faucetta, Food Safety Specialists at Commercial Food Sanitation (CFS) contributed to this article. What follows is an excerpt, click here to read the full article at ProFood World.
Pandemic or no, food manufacturing facilities around the globe have for years faced a constant push to do more with less, according to Stephanie Castro Faucetta, food safety specialist for Commercial Food Sanitation (CFS). "To achieve increased production and throughputs, many plants we visit are trying to shorten sanitation cycles while simultaneously battling staff shortages," she says.
That already problematic situation has gotten even more complex amid pandemic concerns, not only because of workforce shortages but because of increased requirements as well. "Staffing has become even more challenging because of the high number of people out sick or quarantining," notes Clara Pan, also a food safety specialist with CFS. "In some cases, facilities may have to clean additional things like shields or curtains used as dividers as well as perform additional sanitizing or disinfecting. Employee health has shifted to a No. 1 priority for most facilities."
Though steps for cleaning food processing equipment and the surrounding environment have remained mostly the same, there have been new cleaning concerns introduced within pandemic regulations, Faucetta notes. "We have seen increased frequency of disinfecting high-touch surfaces like equipment control panels, door handles, bathrooms, and breakrooms," she says.
One major change that the pandemic has brought for sanitation workers is the mask requirement, Pan says. "Masks can cause goggles or face shields to fog up even more than usual, which can make the job more difficult."
Where social distancing has had a particular impact is in training efforts. "Facilities must get creative on how they deliver trainings to people, including recording trainings that people can listen to in small settings, or from their own device, or staggering out the training schedule to only have a limited number in the training room, allowing social distancing," Faucetta says. "At CFS, we have seen an increased demand from our customers with these new challenges to deliver training. COVID has raised new challenges in building and maintaining a passion for food safety in food manufacturing organizations."
In response, CFS has developed a series of digital short courses on sanitation and hygienic design topics that it has made freely available to the industry from its website.
"We will continue to see facilities focus on employee health and self-monitoring," Pan agrees. "We hope that increased disinfection of high-touch surfaces is a practice that continues. We are looking forward to more developments and research in air treatment technologies as this can help employee health, product safety, and quality."
On that last point, Faucetta emphasizes the importance that zoning plays in the safety of both the product and the workers. "It's well known that hygienic zoning/separation is critical to protect product from microbial cross-contamination," she says. "We have seen how hygienic zoning/separation also plays a positive role in preventing infection during the pandemic, which will continue shifting the food manufacturing plant design and drive the industry forward."
This is just an excerpt. Click here to read the full article at ProFood World.