Allergen Testing - Allergenentests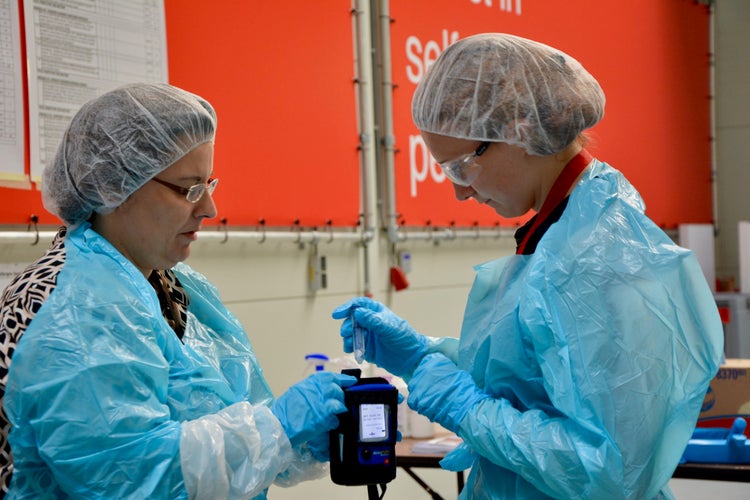 ATP (Adenosine triphosphate) is the universal "fuel" for energy metabolism of each living cell. It is present in practically every food residue that remains on on visually clean surfaces, as well as potentially remaining micro-organisms. ATP as such is harmless, but can serve as an indicator of harmful organisms like pathogens or molds.
Read the full article in Dutch
The original publication of this article was in Dutch language. Continue to read the full article in Dutch...
ATP (adenosinetrifosfaat) is de universele 'brandstof' voor het energiemetabolisme van elke levende cel. Het is aanwezig in vrijwel elk voedselresidu dat achterblijft op voor het oog goed gereinigde werkoppervlakken, alsook in eventueel op het oppervlak aanwezige micro-organismen. ATP op zich is onschadelijk maar kan een indicator zijn van schadelijke organismen zoals bacteriën, pathogenen of schimmels.
ATP is vlot te detecteren via lichtdetectie door middel van het gecombineerde gebruik van het enzym luciferase en een lichtmeter. Een ATP-vrije swab wordt bevochtigd met een ATP-vrije buffer, water of extractiemiddel. Het gebruik van extractanten helpt om ATP van het gesamplede oppervlak los te maken. Met een draagbare lichtmeter kan het testen van de swab gewoonlijk onmiddellijk plaatsvinden. Hoe hoger de RLU-waarde ('relative light units'), hoe meer ATP verzameld werd op de swab. Bij bepaalde systemen blijven de swabs enkele uren stabiel zodat de gebruiker de analyse in een labo kan afwerken.
"Na de droge reiniging en ontsmetting van een transportband voor deeg, voerden we op verschillende onderdelen ATP-tests uit alsook allergenentests, om zo te achterhalen of ons werk wel grondig was uitgevoerd", zegt Judy Inghelbrecht, kwaliteitsmedewerker bij diepvriesgroentebedrijf Ardo, site Koolskamp. "Op de buitenkant en de binnenkant van de band waren de RLU-waarden lager dan de grenswaarde, maar op de trommel en het framework werden die overschreden. Daarom hebben we die onderdelen nog aan een extra reiniging onderworpen. Bij de tweede ATP-test mocht de machine wel worden vrijgegeven voor productie."
Specifieke allergenentests
"Na deze algemene ATP-test hebben we diezelfde onderdelen ook nog onderzocht op de aanwezigheid van melk en gluten, met specifieke allergenentests. Voor melk hadden we meteen alles negatief, maar bij de glutentest doken toch enkele positieve resultaten op. Dit toont dus aan dat de ATP-test wel kan dienen als indicator, maar dikwijls niet voldoende effectief is om voedselallergenen op te sporen. Wat ik in deze workshop geleerd heb, is dat elke test volgens een andere reactie kan werken en dat je daarom de instructies van de test strikt moet volgen. Een resultaat heeft geen enkel belang als je het toestel pas na een uur afleest, wanneer er in de bijsluiter staat dat je dit al na tien minuten moet doen", aldus Inghelbrecht.
Read the full article in Dutch as published by Food Process Vakblad here.
Lees het hele artikel in het Nederlands als gepubliceerd door Food Process Vakblad hier.
Voedselveiligheid in de praktijk – Food Safety in practice
Food Process Vakblad | October 16, 2017 | by Wouter Verheecke.
Multiple times a year, Commercial Food Sanitation offers 'Sanitation Essentials Training' courses in the European headquarters of its mother company Intralox in Amsterdam.
As a trade magazine we were invited to follow two Belgian participants during this three day course: Sarah Vandemoortele en Judy Ingelbrecht, both Assistant Quality Managers at vegetable processor Ardo in Koolskamp. They learned about the importance of food safety, hygienic design, and took matters into their own hands during the practical workshops. A review!
In five blogs we follow their experiences.
Read the full article in Dutch
The original publication of this article was in Dutch language. Continue to read the full article in Dutch...
Meermaals per jaar richt Commercial Food Sanitation een 'Sanitation Essentials Training' in in de Europese vestiging van moederbedrijf Intralox in Amsterdam. Als vakblad mochten wij de twee Belgische deelnemers volgen tijdens deze driedaagse opleiding: Sarah Vandemoortele en Judy Ingelbrecht, allebei assistant quality managers bij groenteverwerkend bedrijf Ardo in Koolskamp. Ze leerden over het belang van voedselveiligheid en hygiënisch design, maar staken ook zelf de handen uit de mouwen tijdens de praktische workshops. Een verslag in vijf blogs!