7 Steps of Sanitation - De 7 reinigingsstappen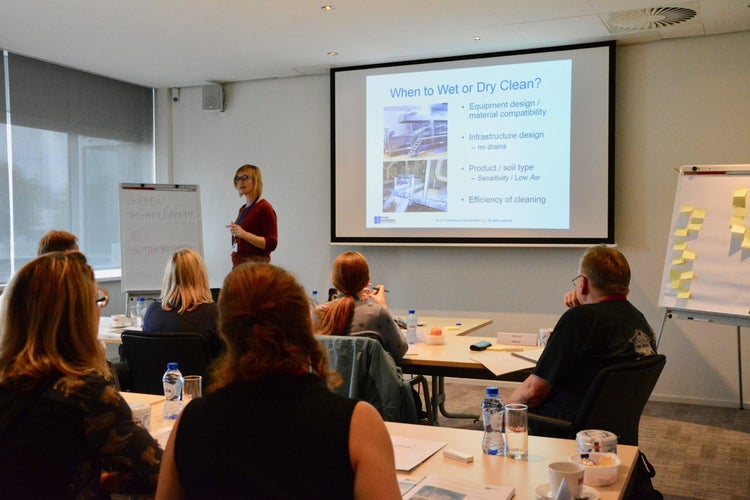 Dry or Wet Cleaning?
In a Sanitation Essentials Training you'll always meet people of diverse backgrounds and nationalities. In our case, participants ranged from  Product Managers for drainage systems, to Microbiologists, to Design Engineers from Czech Republic, France or the UK. And this time there were also two Belgian Assistant Quality Managers among the participants.
Logically for this diverse professional audience a common theoretical foundation was required. 
Read the full article in Dutch
The original publication of this article was in Dutch language. Continue to read the full article in Dutch...
Droog of nat reinigen? 
Op een Sanitation Essentials Training zie je altijd uiteenlopende profielen en nationaliteiten. In ons geval ging het van productmanagers van afwateringssystemen over microbiologisten tot design engineers uit Tsjechië, Frankrijk of het Verenigd Koninkrijk. En dit keer waren er dus ook twee Belgische assistant quality managers onder de deelnemers. Logisch dus dat er door die verscheidenheid aan functies eerst een theoretische basis gelegd moest worden.
"Van het belang van kwaliteit en voedselveiligheid zijn wij allemaal overtuigd, zowel voor de consument als voor ons bedrijf. Maar de zeven vaste stappen van het reinigings- en ontsmettingsproces? Daar waren wij als kwaliteitsmedewerkers in alle eerlijkheid toch niet helemaal vertrouwd mee", zegt Sarah Vandemoortele van diepvriesgroentebedrijf Ardo, site Koolskamp. "Ook de keuze tussen droog of nat reinigen is niet altijd zo snel te bepalen als we dachten, zo bleek uit de voorbeeldfoto's waarbij we het niet altijd bij het juiste eind hadden. Je moet zowel de productieomgeving als het product zelf in rekening brengen, en soms is alterneren de enige juiste oplossing", vult haar collega Judy Inghelbrecht aan.
Voor droog reinigen zijn die zeven stappen:
Voorbereiding (product en afval weghalen, reinigings- en veiligheidstools klaarleggen)
Installatie demonteren (LOTO, onderdelen die in contact komen met voedsel nooit op de grond leggen)
Droog reinigen (grootste vuil wegnemen met schrapers, borstels, doekjes, vacuümzuigers …)
Droog reinigen in detail (resterend vuil verwijderen, altijd van boven naar beneden)
Eigen inspectie (met zaklamp, alle zichtbaar vuil moet weg zijn)
Pre-operationele inspectie (met ATP- en allergenenswabs)
Desinfecteren en hermonteren (met alcoholdoekjes)
Bij nat reinigen wordt dat:
Verzekeren, demonteren en droog reinigen (LOTO, elektrische onderdelen afdekken)
Voorspoelen (met water, zodat alle zichtbaar vuil weg is van de machine en de omgeving
Desinfectiemiddel aanbrengen (van onder naar boven, zonder de schuimlaag te laten opdrogen)
Naspoelen en eigen inspectie (zodat alle zichtbare vuilresten en films weg zijn)
Voorbereiding van de formele inspectie (verwijderen van alle PBM's, afbakenen van GMP-barrières)
Pre-operationele inspectie (met ATP- en allergenenswabs)
Afspoelen en hermonteren
In de daaropvolgende workshops mochten de deelnemers de handen uit de mouwen steken en zelf een droge en natte reiniging uitvoeren.
Read all Food Process Vakblad blogs on Sanitation Essentials Training
Multiple times a year, Commercial Food Sanitation offers 'Sanitation Essentials Training' courses in the European headquarters of its mother company Intralox in Amsterdam.
As a trade magazine we were invited to follow two Belgian participants during this three day course: Sarah Vandemoortele en Judy Ingelbrecht, both Assistant Quality Managers at vegetable processor Ardo in Koolskamp. They learned about the importance of food safety, hygienic design, and took matters into their own hands during the practical workshops. In a blog series Food Process Vakblad follows their experiences.