Commercial Food Sanitation (CFS) is committed to supporting the global food industry by doing its part to advance sanitation and hygienic design. Many of our team members play active roles in key trade groups and industry associations, sharing their expertise and experience with broad industry peer networks.
We believe in paying it forward. That's why we actively share our knowledge and contribute to these crucial discussions about improving food safety, hygienic design, and operational excellence in the industry.
Whether chairing working groups, leading learning events, or participating in task forces, if we feel the industry can benefit from experts putting their minds together, we'll volunteer one of our subject matter specialists to step up and get involved. CFS team members actively take leadership positions and contribute to international, national, and state food safety association affiliates to help increase knowledge and awareness throughout the industry.
Together, we're stronger. Through collaboration, we improve.
Industry Associates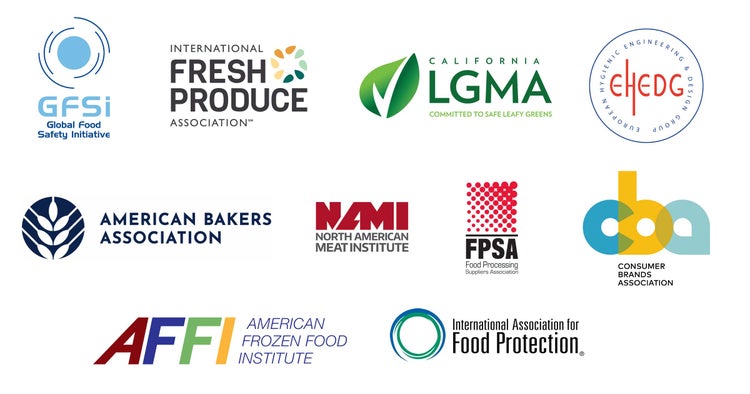 Here is a partial list of food industry associations that CFS team members are actively involved in:
EHEDG | European Hygienic Engineering and Design Group 
IAFP | International Association for Food Protection 
ABA | American Bakers Association
FTRAC | Food Technical Regulatory Affairs Professionals Group
AFFI | American Frozen Foods Institute 
GFSI | Global Food Safety Initiative 
FPSA | Food Processing Suppliers Association 
NAMI | North American Meat Institute 
The Poultry Federation 
CBA | Consumer Brands Association
ASB | American Society of Baking 
International Fresh Produce Association
Arizona LGMA | Arizona Leafy Greens Marketing Agreement 
California LGMA | California Leafy Greens Marketing Agreement
When we see a need or desire to improve food safety in the industry, CFS builds and leads initiatives that pull together key stakeholders from various organizations. Currently, these efforts include:
Produce Industry Collaboration
Our produce industry initiative brings fruit and vegetable processors together with their suppliers, harvesting teams, and equipment manufacturers to collaborate on improving food safety. Facilitated by CFS and sponsored by restaurants, trade groups, and retail outlets, the team has helped enhance hygienic design and improve cleanability, resulting in higher quality, safer products for global consumers. 
Bakery Industry Collaboration
CFS is leading and participating in various collaborative efforts in the bakery and snack industry.  They include the development of strategies to best approach and manage sesame as an allergen, as well as overall improvements to sanitary conditions through improved hygienic design and effective dry-cleaning techniques.

Industry initiatives and trade group participation offer great collaboration opportunities. Do you want to learn or have valuable knowledge to share? Join us today.
---
Related Information
Get to know our team members.

View

If you have a passion for food safety, take a look at the positions currently available to join our global team

View job opportunities

Together, Intralox and CFS offer the expertise, services, and technology that enable food manufacturers to achieve food safety and operational excellence

Learn More